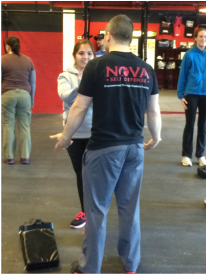 We had a great question after a group of ladies role-played our Ask-Tell-Make scenario. One woman asked, "Can I go straight to yelling?" In other words, can I go straight to MAKE?
As a quick recap,
Ask-Tell-Make
is a means for dealing with unwanted encroachment
when you do not know the person's intent but it does not seem immediately dangerous.
Students respond to unwanted attention the following escalating manner:
ASK- a polite response, "No thanks, I'm fine."
TELL- a firm, irritated response, "I-said-NO."
MAKE- projecting loudly in a rude manner, "Back up!" or "Back the f**k up!"
In each stage the individual's hands are out as a body-language barrier giving emphasis the verbal message of
don't come any closer.
As mentioned in the initial post, this can be uncomfortable because we are socially programmed to be polite.
So, about this person who does not seem immediately dangerous, what could his intent be?
Non-harmful, innocent, or oblivious: the attempt is to offer help with something or ask you a question (time, directions, small-talk,etc.)
Sexual interest in you and attempting to converse with and pick you up.
Malicious intent and feeling you out to see if you are an easy target


The purpose of Ask-Tell-Make is two-fold:
You are assessing this person's intention through his verbal and nonverbal cues.
You are progressively scaling up the intensity of your response if he fails to acknowledge your assertion of NO.
But is there ever a time when you can skip Ask & Tell and go straight to MAKING the person stop? That is:
"Can I go straight to MAKE?"
If you feel that you are in immediate danger, YES. If somebody is encroaching into your space or does something that quickly escalates your discomfort and gut-feeling, you can go straight to "MAKE" by yelling, "back up", "back off" "back the f**k up" or anything that is pertinent to the situation.
An assertive or more aggressive verbal response can deter a less-motivated pursuer's attempt to close distance and also
prepare you mentally to fight by helping to snap you out of the downward spiral of denial "...no, this isn't happening.."
A verbal assertion can be effective for individuals who are not committed to an attack. However, "MAKE" can also mean physically halting their attempt into your personal space by any reasonable means necessary.
If the person is persistent on closing distance into your physical space, a more aggressive response of "MAKE" such as physically halting their attempt into your personal space by shoving or even striking pre-emptively are options to consider, especially if you feel doing so would be necessary to facilitate your escape.
The takeaway message, when appropriate: going straight to MAKE can deter a less-motivated encroacher, but more importantly,
it helps to kicks you into action.
The Ask-Tell-Make sequence is useful as an example of using your voice to assert yourself; the context and your judgment will determine where you start in that sequence, if at all. Using your voice assertively and preemptively is a useful tool for self-protection; however, there is no single solution that fits all scenarios. Use your judgment, be mentally ready, and always be ready to act!
Train smart & stay safe,
Evan D.
Owner/Lead Coach
NOVA Self Defense
www.novaselfdefense.com