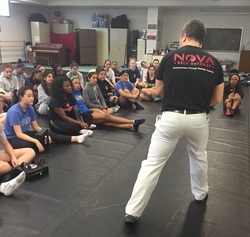 There is probably no other transition we prep for more rigorously in our lifetime; even in the past couple decades, the preparation for college has started at an increasingly young age. But somewhere between the SAT tutoring and the extracurricular activities to add to the application, we forget that these kids are about to go off and live as adults very shortly.
Eighteen-year-olds are still kids in many ways, and this is in large part due to the emphasis of today's American culture on teaching with books rather than with practical experiences. We have all heard the criticism that many high school kids are not taught life skills like how to balance a checkbook, build good credit, or do their own laundry – all very important things, but I can't tell you how many parents approach me weeks before their kids leave for college and realize they have not addressed something incredibly important with their children: personal safety. Like everything else outside of academic performance, it understandably gets put on the back-burner.
This is one of my most frequent training inquiries and I wanted to illuminate some helpful ideas for preparing teens that are going off to college soon, particularly things that I might not get to discuss in my intro self-defense seminars.
The old boxing saying,
protect yourself at all times
, is an good adage to live by. It does not mean that you should be hyper-vigilant or paranoid about everything and everyone you encounter; it means you should have an overlying awareness and question the intent of people you are unfamiliar with in new environments.
Protecting your money and personal information:
Since this is the first time your son or daughter will be living independently, consider talking to them about the type of soliciting calls, emails, and other attempts that they will likely encounter of people that will try to take advantage of them financially, whether by scam, misleading information, or offers and opportunities that seem "too good to be true."
That free "College" t-shirt and slice of pizza may seem like a good idea at the time, but is it really worth the credit card that comes with the 29% interest rate?
Campus safety and pre-planning:
Can you schedule your classes in an efficient manner that doesn't have you running all over the place and taking night classes? Spoiler alert- night classes are not much fun, but sometimes they are unavoidable. In many schools there are on-campus programs with male-female volunteer teams that that will walk you to and from your classes at night by request. Contact your college's campus safety office to see if they have something like this available. Having some guidance and pre-planning in place can go a long ways in instilling confidence in a completely new environment.
How different is your destination from your current safety bubble?
I have taught self defense at many private schools and have found that some small schools have honor codes, where the students are comfortable with leaving their valuables and backpacks in plain sight without worrying about theft. This is a very rare privilege that does not transfer beyond the safety bubble of small private schools. Protect yourself at all times means-
somebody might take my stuff, I need to be cautious about what I leave laying out and keep an eye on my belongings.
This also means not leaving valuables in your car.
What is the environment surrounding your college campus?
College campuses range from relatively secured areas to spread out areas located within cities, where many individuals not affiliated with the university will be passing through. Also, since students will spend some of their time off-campus, it is important to consider safety of the surrounding areas, not just the campus-especially for students that will be living in off-campus housing.
Sexual assault:
Various surveys of college campuses including the 2007 ­Campus Sexual Assault Study, have found that approximately 20-25% of undergraduate women have experienced sexual misconduct (Gray, 2015).
(In depth post coming soon on sexual assault & college campus crime statistics).
Campuses have been taking action to address sexual misconduct, offering seminars for incoming freshman on topics like healthy sexual relationships and bystander-awareness to stop sexual assault. These programs are a step in the right direction, but it is crucial to emphasize to all individuals: your safety is in YOUR hands.
Thus, as with any type of personal safety training, I strongly advocate putting the tools in place before the moment they are needed – so that teens can build the skills, self-confidence, and awareness necessary to understand the complexities of the new social environment they are entering. It is the unfortunate reality that many teens will not seek out personal safety training until they have a reason to do so – whether through personal experience, or hearing of a friend's endangerment.
There are many things to consider when talking to your kids about going off to college and the transition to independence in a new environment. So, if I had to boil it down, what would I personally say to a teen? At the conclusion of a recent self-defense seminar for high school seniors, the organizer of the session asked me,
"What is the most important piece of advice you would tell these kids as they go off to college?"
For everyone: awareness. So much can be done by simply tuning into your surroundings. Watch yourself and your belongings. Watch others- not just in the sense of protecting yourself, but help watch out for them by being aware. Campus culture is determined by what kids will and will not put up with among their peers.
Guys: take a deep breath and check yourself. Don't let your ego get the best of you in avoidable situations.
Girls: be okay with setting boundaries. Be okay with letting other people be very aware of your boundaries. Give yourself permission to say no, assert yourself, escalate, and even fight if your "no" is not respected.
Train smart & stay safe,
Evan Dzierzynski
Owner/Lead Coach
NOVA Self Defense
If you found these tips useful please feel free to share them with others.
Gray, Eliza. (June 15 2015) University Survey highlights role of 'Verbal Coercion' in Sexual Assault, Time Magazine. http://time.com/3936005/university-michigan-sexual-misconduct-survey/