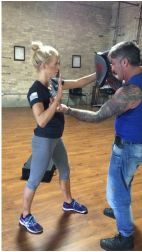 We are excited to be hosting several visitors to our women's self-defense class this Thursday at CrossFit South Arlington.
Five Jamaican visitors from various sectors related to gender-based violence in their communities: a civil servant, police commander, social work educator, non-profit training officer, and university student services manager, will be traveling to the US under the sponsorship of the U.S. Department of State, Bureau of Educational and Cultural Affairs for a 21-day study project where they will be exposed to important initiatives and organizations that support the eradication of gender-based violence for women, youth, and the LGBT community. They will participate and/or observe my women's self-defense class this Thursday.
The focus of Thursday's course will be an introduction to the problem:
What types of violence are women likely to encounter?

We will demo and discuss some scenarios with respect to utilizing your voice as a manner of assertion for sexual harassment and other unwanted-attention type of situations
Give a short introduction on mindset
Learn some simple, physical self-defense skills
This intro session will be a short introduction to some new training concepts that we will be integrating into our 3-hour women's self-defense seminar which will be held on Saturday September 27th.
If you would like to attend please email me at evan@novaselfdefense.com to reserve your place, $20 cash. Event details can be found here:
http://www.novaselfdefense.com/upcoming-training.html