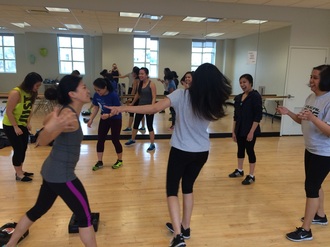 If you are looking for a fun, active, self-defense training experience, setting up a self-defense party is a unique way to have a good time while learning some potentially life-saving skills.
For people who might be uncomfortable in a group seminar environment, learning with a group of friends or family is a comfortable alternative.
I recently conducted two self-defense parties:
A sweet 16 birthday party for a girl whose mother had trained with us and enjoyed the experience
and a bachelorette party for a group of ladies that wanted a fun, athletic activity
Both groups had a great time with the training; in fact the bachelorette group may have had too much fun doing our Ask-Tell-Make verbal scenario, when they role-played creepy dudes persistently encroaching on each other!
For these sessions we can come to you or hold the training at one of our facilities in Falls Church, Virginia.
Email or call us for more information!
training@novaselfdefense.com or 919-302-0440
Train smart, stay safe, & have fun,
Evan D
Owner/Lead Coach
NOVA Self Defense
www.novaselfdefense.com