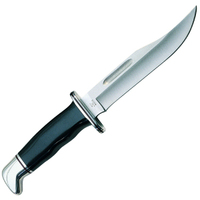 Even some of the the better knife-defense videos make me cringe. In my opinion, knife defense is largely misunderstood. Most knife defense "techniques" presume that the person being attacked sees the knife and knows the trajectory of the attack with enough precision to execute a complex motor skill requiring balance, coordination of multiple muscle-groups, and precise small-bone manipulation with perfected timing. What if you don't see the knife? What if your first confirmation of knowing the knife is present is feeling it pierce your body? Many knife attack survivors say they did not know a knife was present until after the attack; the thought they were being punched! In my opinion is is a generous statement to say that most knife defense programs do not adequately address the hard questions and encompass your options.
Be introspective and ask questions about your training:
Is what you've been taught complicated and flashy?
Do you have difficulty doing it in a safe training environment?
Does is cover the most probable scenarios?
What about starting behind the curve, from the stab or slash already making contact with your body?
Does it address observing and acting upon seeing someone draw the weapon from concealment?
Does the training address all of your options and take into consideration your personal attributes?

Does the training address the different timelines of the attack? An enraged person getting out of his car, pulling a knife out and stomping towards you with intent from a distance can differ from someone ambushing you with repeated stabs with your back turned away from them.
We are going to go through and provide as many options as we can for what we consider to be the most probable situations and attacks in a near-future training.
This is
your
session. Let us know what your concerns are, what you want to see in the training. Comment on this page and our Facebook page.