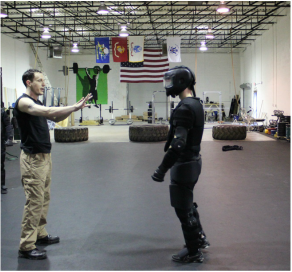 Would you let someone you do not know use your phone to make a call if they had a compelling reason to do so?Read this story, then ask your significant other/friend what they would do if someone asked to borrow their phone. Then tell them what happened to this guy:
A recent report from Arlington County Police Department reads:
​
At approximately 2:45 p.m. as a male victim was walking down the street he was approached by a male suspect who requested to use his cellphone. The victim complied and the suspect began walking away from the victim with his cellphone. The victim followed the subject in an attempt to regain his cellphone at which point two additional male suspects approached the victim. Two of the suspects brandished handguns and robbed the victim of his personal belongings.
How could this have potentially have been avoided? If you have trained with me you know that the first drill I teach is for dealing with encroachment from someone you don't know:
The
3E's of being Elusive: Empathy, Excuse, Exit. Hands up, -sorry man, I can't- and keep walking-keeping an eye on the person, making sure they are not following or closing distance on you.
This seems like an easy example to dismiss and say, of course I'd never do that, but under what circumstances would you be more likely to comply and help a stranger?
What if the person asking was a woman?
What if the person had a compelling story about how they can't find their kid but their phone is dead?
What if they sold you on their story or emotionally drew you in?
My goal is for you to be well on your way before allowing the scenario to unfold- before getting to hear the story and feeling bad about the person's situation, if in fact it is a ruse.
You do not owe anyone your time, money, use of your phone, or any other favors-especially when you do not know them.
Another bit of food for thought- following the man who has your phone to another location- where his armed accomplices are located, is essentially allowing yourself to be abducted- never do this.
Make yourself a harder target- It's OK to say no, address the person to disengage, and be in a hurry and on your way. If the encroachment persists- you have other options.

Train smart & stay safe,

Evan D.
Owner/Lead Coach
NOVA Self Defense