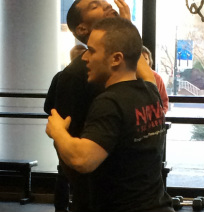 I almost dropped a guy this weekend. And by that, I mean was a millisecond away from preemptively striking him in the throat. The setup: you're outside of a building talking to a friend before getting into your car to go home. Someone slowly walks by dressed peculiarly for the location, you look at your friend like…that's weird, and the guy walks on by. Reengaging in your conversation the stranger doubles back and slowly walks up to you without saying anything, at arm's reach, still closing distance he stares at you then places one hand into his pocket, fishes around for something and withdraws his hand and extends it towards the center of your body while moving towards you. What do you do?
This just happened to me and it is the closest I have ever been to preemptively striking someone.
These are fragments of my thought patterns which occur in micro-seconds:
What the f- is this guy doing? Where's his hand going? Knife? Gun? Shit. (Then I visualize my movement) I see my strike materialize, move in, open hand strike to the throat, close the distance and follow up so that whatever is in his pocket doesn't get to me… then, there was one more thought)
We were standing right outside of the dojo when this happened. This sequence was patterned strike we practiced during our training session. This was not an aggressive encounter; it was slow, confusing, and extremely socially uncomfortable, but in no way aggressive.
I hesitated and didn't hit him. My oh-shit alarm was all over the place but I had one lingering thought that caused me to hold back.
Micro-second, micro-thought: my girlfriend works in the same shopping center and yesterday she told me of a guy that came into the store & made her seriously uncomfortable. He wasn't dangerous, just very strange, but had a legitimate reason to be there. This thought entered my head & I had to know for sure.
Had I hit first I would have struck the landlord's son in the throat. Had it been a real situation with a weapon I may have lost my strategic advantage because of waiting to see what was presented. This encounter could have ended terribly for me.
In this situation it was not an attack, it was a "what the f-?" social encounter where a stranger who gave me a bad vibe approached in an uncomfortable manner and offered an empty hand for the most awkward handshake I've ever experienced. Then I asked a few targeted questions to confirm he was the landlord's son.\
Consider what can be lost if you don't strike first.
Consider what can be lost if you preemptively strike and doing so was wrong for the situation.
You have to weigh everything you know and what your intuition tells you.
Worst case scenario on this hit-first: strike to throat or hitting his head on pavement leads to injury, death, or brain damage to an unarmed man. Then dealing with the emotional and legal repercussions of injuring or killing an unarmed man and a legal battle to articulate why I thought he was armed and decided to preemptively strike him given my vast training background. Worst case scenario: this event may have changed my life forever, for the worse.
Worst case scenario on not striking first if it had been a lethal encounter: death or injury of getting shot or stabbed if he was successful if I was unable to counter the attack. That's also no good.
If you err on the side of caution, you could get hurt – maybe worse. If you err on the side of "hit first ask questions later," you could end up with a lawsuit or worse. It's a difficult gray area that I will discuss more about in a future post. To conclude for now, I am not against pre-emptive striking, but you better have a damn good reason for doing it and need to be able to justify why you did it.
Next blog will be about tips for improving your perception and decision making prior to making a preemptive decision.
If you found this article useful please feel free to share it.
Train smart, stay safe.
Evan D.
Owner/Lead Coach
NOVA Self Defense
www.novaselfdefense.com