Technique, as it relates to self-defense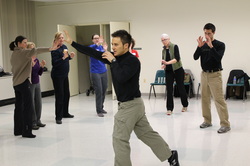 "Technique." The word doesn't sound right in the realm of self-defense. In the dictionary technique is defined as:
"A way of carrying out a particular task, especially the execution or performance of an artistic work or a scientific procedure."
There's nothing artistic about violence or defending yourself from an attack. If all of your practice happens from a perfect stance, what happens when you can't get to your perfect stance?If all of your strikes are practiced with your attacker in front of you, what happens when you're blindsided? Two combative experts that I have a lot of respect for have interesting perspectives on technique. At a recent PDR Coach's Certification, I recall Tony Blauer saying,
"The pursuit of technique gets in the way of action."
Tim Larkin's book,How to Survive the Most Critical 5 Seconds of Your life, Mr Larkin states,
"Technique is like obsessively polishing an empty gun."
To state in another way, the technique is not what is important, only the outcome matters. Make a resolute decision to act, and commit to it. Think about your training. Are you fixated on how good your punches/kicks look and feel? Are you obsessing over proper techniques or intricate motions? Or are you analyzing trajectories, training your non-dominant side, training off-balance and from compromised positions? We are.