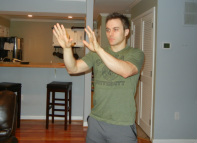 Self-training tip #1

So you've been to one (or ten) of our training seminars and are now looking for ways to practice on your own or with a friend. Where should you start? Over the next few months we will be rolling out some practicing tips on our blog, and posting them to Facebook. Some tips will be physical in nature; others will be more related to mindset, thinking, and visualization exercises.

Let's start with one the non-violent postures, the one shown from the S.P.E.A.R. system as the "Negotiation Stance." The scenario being a person is being verbally aggressive towards you, but is communicating and has not yet justified preemptively striking them to ensure your safety.

Body alignment: your body should be slightly bladed (meaning one side is slightly more forward than the other); your hands are up, palms facing the aggressor. A good way to check this is to get into this stance and observe how you look in the mirror and ask yourself:

Do I look ridiculous?

If you look like a Kung-Fu ninja dragon trying to snatch a pine-cone from a tree you may want to make some adjustments. Your non-violent posture must look both human and believable. It must portray the message of "hey, calm down, I don't want to fight."

Are my hands so wide or narrow that I am providing an opportunity for a strike down the middle or easily around my hands?

Slightly inside shoulder width is a good frame of reference; figure out what works for you.

What about my arms? How much extension?

When we do scenarios with students we often see compression to the point where your elbows are touching your ribs (go ahead, try that right now) …that's too close for comfort. Remember that this position is also a barrier to protect you. Extend your arms to a position where your elbows are at an angle of greater than 90 degrees yet not fully extended or locked out. If the sudden attack happens, it is advantageous to have both arms already at an outside 90 degree angle.


Next topic, working on the palm strikes!