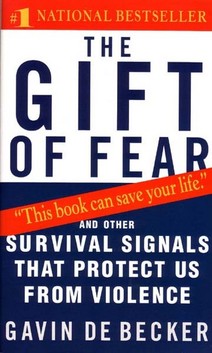 "At core, men are afraid women will laugh at them, while at core, women are afraid men will kill them."
-Gavin de Becker,
The Gift of Fear: Survival Signals That Protect Us from Violence
Since summertime is a busy time of year filled with vacation and travels, we've decided to outline some suggested summer reading material. Our first suggestion is,
The Gift of Fear
, written by an industry expert on violent behavior, Gavin DeBecker. In this book, DeBecker explains how to identify the subtle, pre-incident indicators of violence. The audiobook version of The Gift of Fear plays out like a suspense thriller and is full of useful information: advice on what to do if you are being stalked, how you should act when you are approached by a stranger, and many other self-defense relevant concepts. One of the key points of this book is listening to your intuition.
Some of the Pre-incident indicators discussed are:
Forced Teaming- a person assuming a common bond that does not exist

Too many Details-excessive details when lying

Not accepting "NO"-not accepting or respecting your decision
Giving unsolicited help or an unsolicited promise