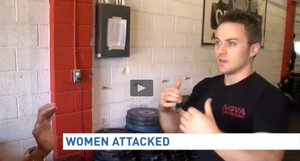 I was recently interviewed by the local news and was asked if there was increased attendance at my self-defense classes as a result of the 9 recent attacks on women in the Arlington area. A few female participants in recent classes suggested that this string of violence was the motivation behind their signing up; however, I still see an alarming problem with denial in the local community. A lot of people think
, it will never happen to me
, and I hope for their sake, that they are right.
I read the forums on news stories and forums to see what some of the average, untrained citizens think about these attacks. When something like this happens people tend to write it off as an anomaly. Then, as more and more similar attacks happen, people want to rationalize it and believe that it is a single attacker- 1 guy victimizing multiple women in arlington, with the mindset of:
I hope the police catch the guy doing this, then Arlington will be safe again! Or Arlington needs to put a police officer on every street corner!
People want to deny the possibility that these attacks are happening at an alarming rate and in their own neighborhood. At all points in this denial process the responsibility of doing something is pushed off
to someone else.
People who do not train and have zero understanding of personal safety need to understand that the police cannot be at all places at all time.
I personally believe that these type of attacks are becoming more prevalent because people are becoming increasingly less-aware of their surroundings and unaware of how the decisions they make provide opportunity for these attacks to happen.
Your personal safety is your own responsibility
and the decisions you make and fail to make have consequences.
Texting, checking emails, playing around on Facebook when you are in transitional spaces/commuting

Wearing headphones when you are walking down the street

Dressing in provocative clothing and/or clothing that makes you less-mobile

Walking by yourself late at night after a night out drinking.

Deciding to jog in the evening hours because it's cooler (in the summer months)

You have every right to partake in every activity on this list; however, it attracts unwanted attention.
You cannot ever know if you will be attacked, but by learning about the process of victim selection, how to improve your awareness and mindset prior to the attack, and learning some solid self-defense skills you can improve your chances of avoiding an assault and improve your ability to fight back if you are ever presented with unavoidable violence.
Train smart, stay safe, and put the damn phone away when you're getting around!
Evan D.
Owner/Lead Coach
NOVA Self Defense