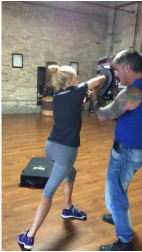 I recently traveled to Chicago to attend a seminar on Urban Combatives put on by Lee Morrison. Morrison is one of the most highly regarded names in the industry and for good reason, he takes what works, and drops what doesn't, and continuously evolves what and how he teaches. He didn't re-invent the combative wheel; he cites works from the best names in the industry and what he has learned through personal experience. I learned an incredible amount of information and have not even worked through 1/4 of my audio recordings from the seminar. I also had the opportunity to do a private lesson with Lee teaching my girlfriend, to enhance her training and also get insight as to how he teaches women's classes, and what he would place emphasis on for a short training session. Much to follow with blog posts on ideas in the near future!
Upcoming training:
Women's self defense 1 hour intro: Aug 21st, open to public

Men's combatives Thursday Aug 28th is open to public
3-hour in depth women's self defense class, September 27th

Train smart & stay safe!
Evan D.
NOVA Self Defense
Owner/Lead Coach