Schedule an on-site self defense seminar for your office or organization
Offering a self defense class for your employees is a fun, team-building activity that can provide potentially life-saving skills for your coworkers.
We will create a customized self-defense seminar to meet the needs of your particular group
We can travel to you for the training.
We are based in Washington DC / Arlington Virginia but can come to you anywhere!​
Please provide us with the following information for a free price quote for a self defense class for your business:
1. Estimated number of participants
2. Location for the training: your location is preferred. All we need is some open floor space. Bonus points if chairs are available for the verbal portion of our session. If you do not have a location we suggest renting a room from a local community center, church, or hotel that is close to your office.
3. Desired length of seminar: 1.5 to 2 hours is typical, though we can do as short as 1 hour sessions for clients with less available time. We
recommend 2 hours. We can also create in-depth training sessions for clients with special training needs.
4. 2-3 dates and ranges of start-times that would work for the group.
Email us at
novaselfdefense@gmail.com or call 919-302-0440We only provide official quotes by email. Any estimate given by phone is not binding since we need all of the above information in writing to provide an accurate quote. Our booking policy is that the first group to confirm a seminar via signed contract gets their requested date(s) and time(s) for the training. Pricing guidelines:
Pricing is set at a flat rate based on the estimated number of attendees taking into account the group size, location, and duration of the training event. Generally speaking, the larger the group, the less cost per-person. When anticipated attendance is above a certain threshold 30-35+ people it can be more advantageous to book a second session than have everyone attend at one time. Please let us know what works for you and we can find out what works best for your budget!
Timing/scheduling
: the sooner the better typically works for us. We prefer you contact us around 2-4 weeks prior to your event date. We typically do not take bookings greater than two months in advance except in circumstances where multiple sessions will be held or special events.
What do we usually cover?

Improving your awareness- learn how to become less of a target by learning the precursors to violence
Learn how instincts and intuition aim to keep you safe
Avoid and verbally de-escalate violent encounters
How to manage fear and the adrenal response
How to effectively defend yourself with simple, gross-motor movements and strikes
A few words from our Owner/Lead Coach
"My commitment is to make you safer by providing a professional, engaging, fun self-defense training experience. Though I would not expect anyone to become a ninja after attending a single seminar, what I can effectively do is help you lay the foundation for the most important aspect of self-defense, improving your knowledge and mindset. Our body-mind system has amazing mechanisms for detecting and responding to the emotional, psychological, and physical components of a violent attack, and it is my duty to help you discover that for yourself."

Sincerely,
Evan Dzierzynski
Owner/Lead Coach
NOVA Self Defense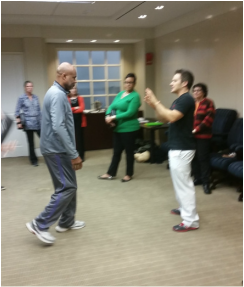 From a DC corporate self-defense seminar: Coach Evan explains the use of non-aggressive body language when someone is encroaching into your personal space.
Contact us today for a free quote on self-defense training for your group!