Book a self defense seminar or private session for your group!
Please email us with the following:
1. Estimated number of participants.
2. Location for the training (exact address for session; if not known, city and state). Do you have a location for us to hold the training or need to make arrangements for renting a local facility? All we need is open floor space. Bonus points if chairs are available for the verbal portion of our session. If you do not have a location we suggest renting a room from a local community center, church, or hotel.
3. Desired length of seminar: 1.5 to 2.5 hours is average for an introductory self-defense seminar. We suggest 2 hours.
​4. P
lease provide 3-4 potential dates and include ranges of time that will work for your group.

To secure your date we will send you an electronic invoice payable by paypal or credit card for with a 50% deposit of the total for your group.If persons will be paying their own way, it will be the organizer's responsibility to get those people to pay you back for the session. We suggest getting everyone confirmed and have everyone pay you early. Cancellation for any reason will result in a forfeit of deposit. There will be no refunds given for cancellations made within 72 hours of the event date and time.

If your group will be larger than 14 people, please let us know.
Email us at
novaselfdefense@gmail.com
Please note that we only give official quotes by email.​We are flexible in how we can accept payment
If participants are paying individually we will take 1 payment from the organizer in advance of the event,
the organizer must independently collect payments from other group members.
​
Tips for setting up a seminar for your group:
Get 2-4 dates up front that would work for your group. At any given time several other groups are asking about the same dates, so be OK with 2-3 back-up dates. First group to reserve via deposit gets the date, not the first group to request.
Get solid confirmations early, prior to inquiring for dates.
Collect money from everyone early, since the organizer has to pay for the base amount.
Invite 20% more people than than the maximum group size you assumed you would have (you will typically lose 10-20% of confirmed participants).
General price *estimate* is $80/person for groups of around 10 people for a 2 hour intro.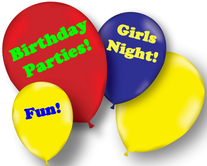 Clients we have recently provided group self-defense seminars for:
Dance Studios: girls self defense class, dance students
Country Clubs: mother and daughter self defense class
Birthday party: self-defense party for high school girls
High school students leaving for college soon: personal safety and self defense class
Self defense parties: self-defense class for a bachelorette party
Women's self defense- self defense class for moms
Girl Scouts- multiple local seminars
Groups of friends, coworkers, mom and daughter self defense classes, etc.
---
Email us for a free quote and find out what we can do for your group!