Private self defense lessons and small group lessons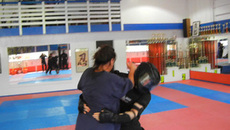 Want to get the most out of your self defense training?
Learning in a one-on-one or small group environment is
a great way to improve your self defense skill-set.

Having an experienced coach focus on you for an entire training session
will help you improve significantly in a short amount of time.


---
For new clients your first private lesson must be a two-hour session:
This session begins with a brief discussion on self-defense mindset
Learn how attacks occur and how to manage an unknown person encroaching into your physical space
Learn and practice simple striking, gross-motor combative skills, targeting, and defending some of the most common ambush attacks.

We currently only offer private and small group lessons in the Seattle/Tacoma markets.


Seattle/Tacoma Market:

We are now offering our private and small group lessons in Seattle Washington and the surrounding areas.
Outdoor training is available in Kent, WA or we can travel to you for small group training in Seattle, Renton , Seattle, Bellevue, SeaTac and others.