Private self defense lessons and small group lessons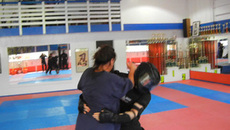 Want to get the most out of your self defense training?
Learning in a one-on-one or small group environment is
a great way to improve your self defense skill-set.

Having an experienced coach focus on you for an entire training session
will help you improve significantly in a short amount of time.


---
For new clients your first private lesson must be a two-hour session:
This session begins with a brief discussion on self-defense mindset
Learn how attacks occur and how to manage an unknown person encroaching into your physical space
Learn and practice simple striking, gross-motor combative skills, targeting, and defending some of the most common ambush attacks.
Outdoor private lesson location
Park in Falls Church/Baileys Crossroads area
weather/temperature dependent
All private lessons will be held outdoors at this location unless otherwise stated.

Private lessons held in the Falls Church/Baileys Crossroads areas are currently on hold.


Pricing for 2-hour introductory sessions:

Private lessons are currently on hold until further notice.