Private self defense lessons and small group lessons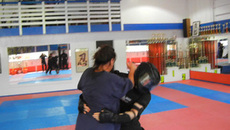 Want to get the most out of your self defense training?
Learning in a one-on-one or small group environment is
a great way to improve your self defense skill-set.

Having an experienced coach focus on you for an entire training session
will help you improve significantly in a short amount of time.


---
For new clients your first private lesson must be a two-hour session:
This session begins with a brief discussion on self-defense mindset
Learn how attacks occur and how to manage an unknown person encroaching into your physical space
Learn and practice simple striking, gross-motor combative skills, targeting, and defending some of the most common ambush attacks.
Outdoor private lesson location
Park in Falls Church/Baileys Crossroads area
weather/temperature dependent
All private lessons will be held outdoors at this location unless otherwise stated.

Private lessons will not be available during any weekends in June and will be temporarily unavailable starting June 22nd.


Pricing for 2-hour introductory sessions:

We are currently only offering multiple person introductory private lessons. If you would like a twp-hour intro, get 1 or 2 friends together and contact us.

$240 two people $120/person
$300 for three people $100/person
$400 for four people $100/person

With a group of 4+ people we may run an extra 10-15 minutes to get through the content intended for a 2-hour private/small group lesson.


*Cancellation of any private lessons with less than 48 hours notice results in a 50% cancellation fee, except when due to bad weather*
Email novaselfdefense@gmail.com to schedule your 2-hour introductory private lesson.
​
Please provide 2-3 possible dates and ranges of time that would work for you and we will coordinate a training time