In addition to the testimonials below we have 28 5-star reviews
Testimonials from recent self-defense classes

"I recently attended a two part self-defense class with Evan, and am beyond thrilled with the experience. The first day was more of an overall intro. We talked about mindset and learned some basic strikes. The second day we jumped right in to practicing the strikes we learned on the first day, and adding on to them. We even learned how to get out of a choke hold. Evan was incredibly knowledgeable. You could tell he has a passion for what he is doing. I left this session feeling more competent in my basic skills, and interested to try some of his more intensive programs to build on this foundation. I feel this is a must class for any and all women." -Rebecca F. Alexandria, VA
​
"I went into this class with a general interest in self-defense but not knowing what to expect. By the end, it was well worth my time to do four sessions over four nights. A few things stand out from my experience that make me comfortable recommending it to all others. First, Evan clearly has a deep knowledge of the field and ability not just to answer any question but to help you see rationale and develop your own self-defense mindset. Second, Evan's emphasis is on simple, functional defense based on easily-learned movements rather than complicated techniques that would require more than four sessions to learn and execute properly. He started simple and in just four classes built confidence and provided a toolbox to build from moving forward. Third, Evan is great at scaling the instruction and execution to match individual students' level of experience. I was in a class with total beginners (like me) mixed in with more experienced students and never felt uncomfortable thanks to Evan's ability to keep everybody engaged and learning. Altogether a great experience and look forward to working with Evan again in the future." -Austin

"Evan is a subject matter expert in the field of self defense who truly cares about his students.
His dedication, patience, and no-nonsense teaching method connects with the most hesitant beginner to the previously trained in martial arts.
Repetitive hands-on drills build confidence and establish a baseline for continued self-improvement as you move from beginner to more advanced.
Evan stays current with the latest instructor training methodologies and techniques so that you will learn something new every time.
Cannot recommend his courses highly enough." -Christine C

"I took the 4 day condensed workshop and recommend this for experienced martial artists and also beginners with no experience in martial arts or self defense. I appreciated the emphasis on good basic skills and applications of same. I plan on training with Evan again!" -Van K.

"I enjoyed these classes very much. They were fun, challenging, informative and conducted in a light, friendly manner. Evan kept the class enjoyable and interesting and pushed us without demanding too much. Perfect class for beginners." -Luke L.

"Evan is excellent! He is very knowledgeable, friendly, and helpful in getting the class participants to understand and practice not only the concepts but also the actual mechanics of defending oneself from a variety of real world scenarios."
Self defense for realtors: corporate self defense seminar reviews from MBH, Vienna VA office
Answering the question: Please sum up your experience. What did you find to be the most useful concept(s) of the training event?

"Everything! The class was very well done. Extremely helpful. Teaching the idea to "think," Great job."
"Great information. Be aggressive and fight."
"Encouragement to fight with basic moves so the fight reaction becomes more natural."
"Reinforces to be aware and trust [your] instincts. I feel empowered to not be a victim and definitely learned new ways to defend myself."
"It was a great experience. I think the -thinking all the time- part was most important"
"Very useful. I took the police department's R.A.D. (Rape Aggression Defense) training many years ago. This was a nice, quick summary."
Self defense party review
This testimonial is from a follow-up email on a self defense birthday party for a group of high school girls:

"The girls did have fun- in fact, the entire event was a great success! You did a wonderful job and I really appreciated how you balanced engaging the girls in a friendly and positive way but maintained a very professional demeanor throughout. Having worked with teens for many years in mental health/substance abuse settings I am very attuned to that issue - it is a huge part of our clinical training. Countless times I collaborated with other professionals (in order to assist the kids) who simply didn't have a good sense of boundaries. I really thought you excelled in this area. Also appreciated that you were thoughtful about what activities you presented, given that the group was teenage girls, but you were flexible and when I suggested something you said "cool, let's go with that". Thank u also for putting so much energy into making sure the girls understood the techniques and got all their questions answered. You really went the extra mile and your genuine interest in helping them to learn was evident."

Sarah Arness
Rockville, MD
Corporate self-defense seminar DC law firm reviews
Excerpts from reviews at a recent employee self defense training event answering the question, what was the most useful concept of the event?
"First, the trainer was awesome and knowledgeable! The most useful part was the stance to get out of an attack. The rest was cake :) "
"Basic and easy ways to defend yourself."
"Excellent- great technique advice. Easy to learn."
Self-defense lessons: review from female client
I travel a lot and being a woman there is always a safety concern. Even just walking alone down my street or in the city can be scary, which is why I've always wanted to take a self defense class. I finally took the opportunity to take an intro course with Evan (NOVA Self Defense) this past weekend and I am extremely glad that I did. He is a great instructor, and was able to explain the concepts behind his training in a way that was easy to understand. As I am often a timid person the idea of hitting anything (even a pad) is not #1 on my list, but luckily Evan created an environment that was comfortable and relaxed, which allowed me to really learn and practice the movements he was teaching. All the movements are easy to learn and if/when I had trouble with certain movements Evan was able to quickly come up with ideas that might better tailor the movement to my own abilities. I'm excited to continue practicing and learning new self defense techniques with Evan! Whatever you reason for wanting to take a self defense class Evan is your guy. He clearly knows his stuff and can mold the lesson to your abilities and comfort level. I highly recommend NOVA Self Defense.

Anna C.
Arlington, VA.


Women's self defense class reviews
I had a great experience at the NOVA 3 hr. self defense seminar I took recently. I was a novice but Evan and his team made the experience very comfortable and dynamic. They emphasized both the mental and physical aspects of self defense which I really appreciated. Learning how to mentally recover more quickly from the surprise, fear and pain that might accompany an assault so you can defend yourself was an important concept for me. Also being willing to totally commit to the fight if there are no other options is a crucial consideration. The instructors had us practice defense moves repeatedly to help us get used to the motions and the force required. They put a lot of information and training into the 3 hour session, and were genuinely committed to ensuring that we all got as much experience as possible. It truly seems important to them that each participant feels safer and more competent when they finish the seminar.
Sarah A.
Olney, MD

Excerpts from our 9/27/2013 3-hour seminar, answers to: Please summarize your experience.
What did you learn/like/find most useful?

"This was great! I thought the lecture and attack from behind was most useful."

"I learned a lot about protection and the importance of moving forward and not being on the defense."

"Definitely the in-person experience [was most useful]. I had read and listened to TED talks on self-defense, but practicing made it so much easier to solidify basic principles in my head." "It was pretty comprehensive, so I wouldn't have anything major to add."

"This was a great experience. I was hesitant to sign up but really gained useful information. The awareness and options to prepare yourself when you think you may be attached were very helpful. The open-handed, open-elbow arm hold to keep people away was a very useful concept. I also had always thought about breaking your hand in a fight, but had never considered an open hand as a good alternative." "I thought it was really great and will highly recommend it to friends."

"I think the most useful parts were (1) experiencing what an attack might feel like so I won't be caught too off-guard, and (2)learning the basics of how to move [an] attacker away with open fist [with a] >90-degree elbow. Good 'basics' course."

"Great experience! Trainers put a lot into the 3 hours. Practicing each move was key!" "Thought it was very good."

"Create space. Be on offense. ATTACK!" "It was great."

"I would say my experience was extremely helpful and certainly boosts my confidence to going/dealing with college next year. The most useful concept was the live-action part at the end."

"Relevant/practical concepts and techniques. Good intro to self-defense."

"The coaches were very knowledgeable and conveyed the message to become an aggressor very well."

"Great overview of basic concepts"

"A few 'signature moves,' so to speak, that I can use right away"
Private Lesson Review
I have been to many different introductory self- defense classes, yet never felt compelled to sign up. After Evan's 2 hour introductory session where he introduced the self-defense philosophy regarding fear control, instincts, and basic striking techniques, I was excited to begin private lessons. My experience with Evan and his private self-defense training was fantastic! Evan was thorough in communicating the techniques and skills necessary to defend myself in many realistic situations. He tailored his training to my physical abilities. Evan was always patient in answering all my questions, and making sure that I understood his answers.

I have come away from my self-defense training with a significantly enhanced awareness and confidence in my ability to defend myself should the need arise. Additionally, my overall fitness has improved by spending some time daily practicing the self-defense techniques.

Evan's practical approach to self-defense is inspiring. He cares about his student's safety and he teaches techniques that one can execute with minimal thought, and instinctiveness. I give my highest recommendation for Evan's training!

Thanks so much Evan!
Carlos
N. Virginia
Self-defense lesson review from experienced boxer
Question:
What did you learn, like, what did you find to be the most useful concept(s) of the training event?

Response:
As an ex-amateur Open-class/Elite level boxer, I wasn't expecting to learn much about striking with my upper body extremities, but boy was I wrong! I learned that my stance to develop the momentum, speed and strength was a little inadequate and that I was beginning the movement with the wrong leg. Instead of pushing forward with the back leg, I was pulling forward with the front leg. This doesn't help much in developing the momentum and strength due to many things: the front leg position and form (knee bent in almost a 90-degree angle in front of the body center/weight, and obviously the center and weight of the body is behind that leg/knee. Thus what I was doing before was pulling my body with my front leg towards the target rather than pushing my body towards the target with the leg behind the center and weight of my body. I believe this apparently simple thing will make drastic changes in my striking strength and speed.


Self-defense seminar review
I signed up for a NOVA Self Defense class having never been in a fight in my life and not really ever expecting to. However, watching too many bad action movies made me curios as to what really happens when you go face to face with a bad guy and have to defend yourself. 1. Wow, do the movies have it way wrong (shocker, I know). 2. I am so glad I went through Evan's course. I walked out the door after 3 hours of training feeling safer, more aware and above all else confident that I knew what to expect if something bad happened to me. I know that I'll never knock a guy out with one punch, but I also know that such a move is entirely unrealistic and unnecessary. Every stage of a potential confrontation was broken down and explained to us. Some of it was designed to make you uncomfortable, but I really appreciated the realism that Evan and his instructors provided in the simulations. They made it clear and simple to understand what we needed to do, why we needed to do it and what to expect after it happened. We learned to make ourselves less likely to be targeted, how to defend against attacks that are obvious and those that are surprises and how to gain control over an attacker. I still don't plan on getting in a fight anytime soon, but the feeling of self-assuredness that I left with is hard to describe. Knowing that you can react to the worst of situations if you have to was well worth the cost of the seminar to me. This isn't a technique-heavy hobby or exercise session. I now think of it common sense, street smarts and a general skill that everyone should be exposed to. Simply put, Evan changed my outlook on self defense and made me a more confident person in about 3 hours worth of work. I highly recommend it.

Conor
Crossfit Coach,
Arlington, VA


Testimonial for on-location self defense seminar for DC nonprofit Group

"A Bigger Picture, Inc. had the privilege of working with Evan and Gianni from Nova Self-Defense on August 18, 2012. They conducted a 2 hour long self-defense class for 10 of the girls in our program. The class was interactive, fun and very educational. Evan and Gianni did a great job of answering all of the girls questions and went over so many "real-life" situations that really benefited the girls. Evan and Gianni did a great job of giving the girls adequate time to practice the defense moves learned and gave wonderful advice! I would definitely recommend Nova Self-Defense."

-Chanel Evans, Founder and Executive Director of A Bigger Picture, Inc.

---
Womens self defense classes review
I was hoping to learn basic self defense and learned that and much more. I think we may have just been lucky but the student to teacher of 4 to 3 was AMAZING! It gave us a chance to really practice and not just watch others. I loved that the teachings were based on what you would do naturally in a fearful situation. Flinching, shrugging etc... It makes sense and also the basics like "open 90" and "turn TOWARDS the threat" are new ideas and easy to remember. I also thought it was excellent value for the 4.5 hours o training. Also, you were all great but I really liked that Gianni really challenged us on the last day, getting in our face and pulling our hair, it was very real - but safe - and excellent practice. I thought it was an amazing and enlightening course.

Thanks so much!
C. Lee Cawley, CPO®
Self defense for teachers
"NOVA Self-Defense was a phenomenal experience. Between the hands-on activities and drills, the easy to understand instructions and the practical advise; I felt I was leaving the session with a significantly deeper knowledge of how to defend myself. I enthusiastically recommend their services to any person or groups who want to learn more about real-life safety."

Rohini Ramnath
Washington, DC
Testimonials from self defense class at Ballston Crossfit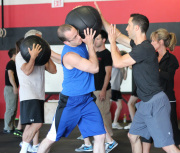 "I recently had a chance to attend a NOVA Self-Defense seminar and having had decent amount of marital arts experience, mostly from Tae Kwon Do, gave me a background to judge the techniques that were taught. While most of the initial drills on striking were rather familiar, once we moved on to awareness, responses, chaining, and real-world simulations even I felt that I gained refinement to my ability to defend myself in case I might ever need to. One of the great things I took away from the seminar was knowing that I'd feel that this would provide a level of instruction that would keep friends safe if this was their only source of self-defense training."

Maxwell Sissman
Arlington, VA

"Having a fitness background, but no previous self-defense training, I really learned a lot from Evan and NOVA self defense. The training gave me the confidence that if I were ever in a bad situation, I would be able to avoid it or get out of it quickly. I thought all of the drills we did linked together really well and taught us to use our own reaction to our advantage. I would definitely recommend this training because it provides real life situations to gain knowledge to get out of these situations."
Abby Herrit
Personal Trainer/Group Fitness Instructor, Fairfax VA

"Thoroughly enjoyed the class. Left with a self confidence to deal with awkward and potentially threatening situations. Your instruction provided me a base to build on should I feel further classes will ensure my abilities are tested by your instruction and practical applications. Taking the class with my wife gave further assurance that we could both rise to any unfortunate encounter."
Tony Andre,
Arlington, VA


---
Private lesson review
"I really saw the value of my private self-defense training with Evan when I encountered a threatening situation while out jogging one morning. I was approached by a crazy person flailing an umbrella at me who was shouting and posturing to strike me. Because of my training with Evan, I remained calm and had the confidence I needed to defend myself if he were to strike me. Thankfully, I was able to avoid the situation but if I had been attacked, I was confident that I had the tools available to effectively handle the situation."

- John S.
Rockville, MD
Women's self defense class review, Arlington VA

"I feel like I learned a great deal on Saturday. I was a bit overwhelmed by the amount of information. For my learning style, I'm better with shorter courses, with chances to practice and cement the information more firmly in my mind, so I'm planning on attending some follow-up sessions. I also think muscle memory will kick in thanks to the hands-on practice, and it won't matter what my mind is thinking--my body will naturally do what it has been trained to do. I really appreciate that you have these courses. I have taken one or two martial arts style courses, and the steps felt too formalized. I've been in situations that call for a fast response, and in no way would I have had the time or presence of mind to recite steps in my head prior to needing to act. Hopefully I'll never irritate someone enough to need to use the skills you've taught us, but, should I find myself facing an angry adversary, I know my odds of a successful outcome have increased significantly thanks to just that one class so far."
Christine Picaut
Arlington VA

I attended the 4 hour Women's Self Defense training last Saturday. The class was great. Throughout the physical portion of the training there was a lot of emphasis on the physiology of the attack. For instance, the trainer would have us standing with our back to our partner and the partner would come up from behind as if they were going to choke us. Initially we had to just stand there and take it, focusing on the sounds, sights, and feelings that we experienced prior to and during the course of the attack. We repeated this exercise and at an unknown point a trainer would sneak in and perform the "surprise" choke hold. I actually surprised myself during this exercise. While doing it with my female partner, I did as instructed and just stood there focusing on the sounds, feelings, etc. When one of the male trainers came up behind me & performed the choke, it felt real and my immediate reaction was to perform the defensive move which I had learned at a previous training with NOVA Self Defense. Although I wasn't exactly following that day's instructions it was good to see that when I felt threatened I reacted appropriately. After going through various techniques, the class ended with the trainers putting on their padded suits and "attacking" the students. Each student took a turn with each trainer. The attack began with a verbal confrontation, we had to determine whether we could escape, verbally de-escalate, or would have to become physical. If it became physical the attack didn't end until the trainer was on the ground and the student was safely out of reach of the attacker. The training was fun and informative. Of course, when I got home I tried out some of my "skills" on my husband. He was surprised at how easily I could free myself from his grasp. This course doesn't teach you to try to overpower your opponent, that isn't realistic in many cases when a woman is up against a man. It does however focus on using your body's natural responses as a defense mechanism both from recognizing the danger all the way through the physical aspect. I do think the more training a person gets, the better her chances are in surviving a real life situation. I have now attended two seminars as well as a 12 week course. I intend to continue taking at least one seminar a year just to retain the information that I have learned and stay current on any improvements. I also plan to have my daughter Amanda take a course like this as soon as she is old enough.
Christi Campbell
Amissville, VA
Testimonials from self defense classes in Northern Virginia
"NOVA Self Defense teaches a very practical style of self-defense. The SPEAR (Spontaneous Protection Enabling Accelerated Response) system is a form of self-defense based on your natural reaction and reflexes to an attack, which I think is smart, realistic, and practical. Additionally, the moves are very simple to pick up, so when you leave the class, it is easy to remember how to protect yourself without having to continuously practice and drill techniques.
Evan is a really awesome, hands-on instructor. He really gets into "character" when running simulation attacks, and is very encouraging and patient when you don't get the moves right away. Additionally, he held a self-defense class for some of my students and he is great with kids as young as 8 years old (and they loved him!). Evan also sometimes throws in a killer workouts, so not only do you learn self-defense, but you can be done with your workout for the day by 10 am! I would really encourage anyone even slightly interested to check out NOVA Self Defense, even if it's just for one class. You'll learn a lot, leave understanding and remembering what you learned, and feel confident in your own abilities."
-Ming Fung
UGA Graduate Student


"This class is really amazing! I was skeptical at first-I'm pretty clumsy/uncoordinated, so I didn't think I'd be able to pick things up right away. But the moves you learn are simple natural reaction based movements so there's not a huge learning curve. During each class we go over a new attack someone might ambush you with on the street and learn how to defend against it. First the class desensitizes you to some of the panic by safely exposing you to the attack so you know what it feels like and you can see it coming before you actually encounter it. Then we learn the defense against it and practice the defense with different students and assistants so you get used to dealing with all different body types and strength levels. Afterwords the instructors gear up in padding and present you with possible scenarios you could encounter on the street so you can practice what you've learned in full speed. Every class has strengthening exercises based on the fundamental defenses we learn. Some classes have a cardio component built into them so they're a good way to start getting fitter too. You really couldn't ask for a better instructor either! Evan does a great job of assessing everyone's skill level and then pairing them with other students or assistants, so not everyone has to be on the same skill level. Evan's funny and super engaging in class and really gives a lot of helpful feedback without being critical. He explains/demos things so clearly and realistically its actually hard NOT to learn something. Overall I'm really impressed with the skills I've picked up from it and how fun each class is."
Chris Vestal
Alexandria, VA


I had a great day of training last Saturday in Arlington Virginia with NOVA Self Defense - with Evan Dzierzynski- Owner and Lead Coach. I attended an Intro to Personal Defense Readiness and the SPEAR System (Spontaneous Protection Enabling Accelerated Response) created by Tony Blauer. I'd recommend anyone who trains in martial arts and states they teach reality based self defense to visit or train with an instructor from the SPEAR/PDR system. It will cause you to look at what you teach, how you teach and what you will change to be more honest in what you give to individuals.

Christopher Torres
Bronx, New York
Women's Personal Defense Readiness review in Warrenton, VA

"When I first signed up to take the class the idea of it was a bit intimidating. But Evan and Brendan are great at creating a comfortable training environment. I was relaxed and began learning the techniques while having fun, almost immediately! In the classes I have taken, we have had women of all age ranges and fitness levels and we are truly learning a lot. I would highly recommend this training to all women and teenage girls. One thing a lot of women have said to me when I talk to them about this program is that if they ever found themselves in a threatening situation, they are afraid that they would freeze up. I believe this is a pretty common reaction, because they don't know what else to do. One of the great things about the course I am taking is that in addition to the physical techniques they also focus on the psychological aspects of an attack which addresses this very concern."
Christi Campbell
Warrenton, VA


"Personal Defense Readiness has given me more confidence. Since taking the class I have been in a few stressful confrontations where I needed to be prepared to think and act quickly. In these certain situations- a man with road rage and a man who had too much to drink- I was able to recall the lessons and concepts Evan taught me. Fortunately I was able to create distance between me and the offender before anything physical had to happen. Putting distance between me and whoever I'm interacting is not natural for me. I am use to standing there, talking and trying to politely handle the situation. However, when I started getting nervous I heard a voice telling me that something is wrong and not to stay and try and work it out. Leave before you let this man try to hurt you. That voice came from Evan and Brendon and I am grateful for having learned such valuable, simple, easy to employ defense tactics."
Jess Howard
Warrenton, VA