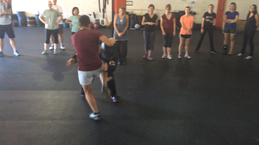 After we teach our seminars we solicit feedback from the participants asking them three things:
Please summarize your experience. What did you learn/like/find most useful?
If we had one more hour what would you like to learn?
How can we improve this course?
One student wrote:
"Create space. Be on offense. ATTACK the motherf-er."
My coaches and I agree that we could not have stated our course summary or the definition of physical self-defense better in so few words. One of the challenges with offering a self-defense seminar is the
prioritization
of information and concepts to be taught since there are limits to what you can cover safely with a large group in a fixed amount of time. We always
emphasize
mindset as the first and most important aspect of personal protection. With respect to physical skills, we teach simple gross-motor strikes and try to get as much practice possible to ingrain the mechanics in a short amount of time. We look at our training as a catalyst for causing change and growth, hopefully
leading to further education, training, and practice, and questioning ideas, rather than one seminar being an end-all-be-all to training.
This idea is analogous to hiring a fitness coach or attending an Olympic lifting seminar. You could learn some extremely valuable concepts in a seminar or weekend training event, but what you do with those skills after the session is over will affect your personal growth and how much you improve your skill-set. Showing you a push-up once doesn't mean you are done with push-ups. The same goes for combative principles.
Below are some excerpts from our 9/27/2014 3-hour women's self-defense course reviews:
"This was great! I thought the lecture and attack from behind was most useful."
"I learned a lot about protection and the importance of moving forward and not being on the defense."
"Definitely the in-person experience [was most useful]. I had read and listened to TED talks on self-defense, but practicing made it so much easier to solidify basic principles in my head." "It was pretty comprehensive, so I wouldn't have anything major to add."
"This was a great experience. I was hesitant to sign up but really gained useful information. The awareness and options to prepare yourself when you think you may be attached were very helpful. The open-handed, open-elbow arm hold to keep people away was a very useful concept. I also had always thought about breaking your hand in a fight, but had never considered an open hand as a good alternative." "I thought it was really great and will highly recommend it to friends."
"I think the most useful parts were (1) experiencing what an attack might feel like so I won't be caught too off-guard, and (2)learning the basics of how to move [an] attacker away with open fist [with a] >90-degree elbow. Good 'basics' course."
"Great experience! Trainers put a lot into the 3 hours. Practicing each move was key!" "Thought it was very good."
"Throwing punches and learning how to separate yourself."
"Create space. Be on offense. ATTACK the motherf-er." "It was great."
"I would say my experience was extremely helpful and certainly boosts my confidence to going/dealing with college next year. The most useful concept was the live-action part at the end."
"Relevant/practical concepts and techniques. Good intro to self-defense."
"The coaches were very knowledgeable and conveyed the message to become an aggressor very well."
"Great overview of basic concepts – especially incorporating the psychology piece, turning into the threat and the open palm 90-degree angle arm move"
"A few 'signature moves,' so to speak, that I can use right away – over 90-degree hand open with arm, shrugging to help block a choke, hammer punch, etc."
Train hard & stay safe,
Evan Dzierzynski
Owner/Lead Coach
NOVA Self Defense
www.novaselfdefense.com