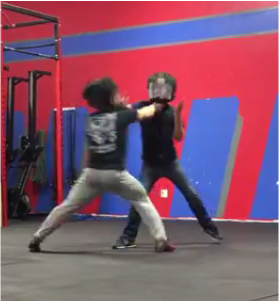 Training "Evolution"- both participants are attempting to land jabs with the training knife to each other's head/face.
A couple weeks ago I attended an Edged Weapon Overview with Craig Douglas, owner/creator of Shivworks. This class is a broad overview of close-range knife skills. The class was split about 50/50 with training for controlling the person and mitigating the knife attack in grappling range as well as accessing and utilizing your own knife if you carry one and using it in close range or at keep-him-off-me-range.
What I appreciated from this course was how much it implicitly stressed the need for broad fundamentals. The base skill set in which the drills were introduced were movements derived from Greco-Roman wrestling. What I found extremely helpful from this course is that you learn a lot from the variations in the training modalities and constantly changing of training partners. With a group of 20+ people of varying sizes, athleticism, training backgrounds, and "go-speeds" you get a better feel for who you are with the drills and what you can make your own, even more so in the "competitive" iterations of the drills, where both participants are trying to competitively win the drill- the drills still had boundaries and particular focus points, rather than a free-for-all, but this is method of training, which I would prefer to differentiate from the word "sparring" was task specific, mostly with a particular skill-focus under the stress and pressure of somebody not letting you technically perform the task.
This class also did an excellent job of pushing comfort zones during the "Evos," which are competitive training scenarios with high intensity that last for an unknown amount of time (maybe 30-60 seconds... felt like an eternity), with the participants wearing minimal gear- big padded helmets (
which were thankfully pretty good at absorbing strikes)
and either training knives or boxing gloves.
All and all it was a very good experience and illuminated how crucial distance, time and movement when you are within arms-reach and someone is attempting to attack you with a knife. If you are serious about carrying a gun or knife and need skills for accessing it under stress, I highly recommend checking into training with
Shivworks.
Train smart & stay safe,
Evan D.
Owner/Lead Coach
NOVA Self Defense