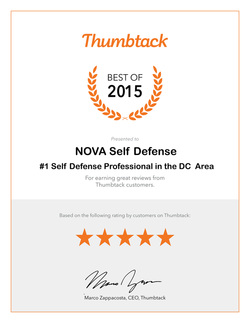 New locations:
We are expanding into DC with sessions planned for CrossFit Key Bridge, in Georgetown! We plan to offer 2-session courses on weeknights here as well as an occasional weekend seminar.

We're excited to announce that we will be teaming up with a local martial arts dojo in Arlington VA to work with them on practical self-defense skills and safely injecting elements of scenarios and modifying their skill-set to introduce them to how we provide skills more useful to counter violence.

New training:
Next weekend I will be attending a seminar with Kelly McCann, which happens to be the final weekend seminar to be offered at his legendary Kembativz Crucible location. I've heard good things about his training and am looking forward to learning some new skills and gaining insight from one of the most well-respected combatives experts in the field.
We are also replacing our introductory self-defense class with a 2-session class introductory class. We usually have two lead coaches at these, so it's a great opportunity for beginners to get a basic introduction to personal defense and offer a follow-up session to help ingrain some of the movements.
Oh, and lastly, we recently received a reward from thumbtack for being the best self-defense instructor iDC area! I'd like to thank those of you that helped make this possible and those who still support us in what we do.
Stay safe & keep learning,
Evan D.
Owner/Lead Coach
NOVA Self Defense.