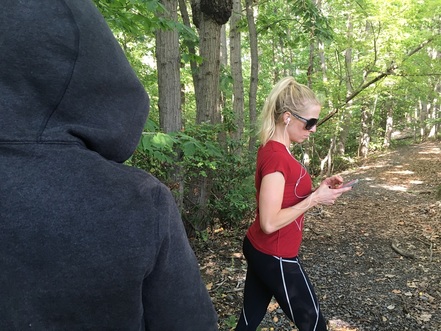 Every year horrid stories of women getting attacked while running trails get lit up by the media and usually all that results from this usually is fear tactics rather than advice on what to do about it. "Women urged to be cautious." -Great advice. I'm writing this post to give readers some useful insight on the problem and some solutions.
Before looking at some safety tips, let's take a look at the possible opportunities from an attacker's perspective:
His victims are alone, running through isolated areas that provide him with cover (trees, buildings, brush)
His victims are usually unarmed and untrained- most people do not have any self-defense training or carry anything that can be used as a weapon that they know how to access and use
His victims run at night or early morning-when it is cooler and darker outside
His victims wear headphones so he knows they're not likely to hear him approach
When you look at the problem from the perspective of the opportunity that is presented it illuminates why women are frequently attacked while running trails.
You should be able to feel safe enough to run by yourself without having to worry about something bad happening to you. Unfortunately, that is not the world we live in, even in
safe
places. You can do little to make the world safer on your own, but you can do a lot to make yourself safer in an unsafe world.
If a criminal has the intent to abduct someone and take them to an isolated area to rape or murder them, what could possibly make it easier for him than a woman running by herself when it's dark out, through an isolated area with headphones on?
So how can you avoid this? You're not going to like the answer.
Do not fit the perfect victim profile of running alone, unarmed and untrained, wearing headphones, especially in isolated areas at night.
The best protection is to be more proactive with your planning by running with a friend or acquaintance.
Don't have any friends? Make a friend. Go to a local running club meet up and run with a group. Local running shoe stores like Pacers have groups that go out on evening runs together. If you like the group find somebody in that group that runs as good or poorly as you do and get their contact information and run with them.
"But that's inconvenient! I don't want to have to text somebody and plan to run with them."
Running with someone is the safest option and there is no easy substitute for accepting responsibility for your own personal safety. Something bad is more likely to happen to you when you are by yourself because you are simply an easier target.
Ultimately it comes down to the cost-benefit analysis you make with any life choice. What level of risk are you willing accept for the decisions you make?
Assuming you are running to improve your health, doesn't it just make sense to take the ultimate step in protecting your health by taking precautions that promote your own safety?
If you are still willing to risk running by yourself these are some considerations
Ear-buds- consider wearing only one ear bud so that you can still hear background noise- on several occasions while running I have almost slugged someone who brushed up behind me briskly because it startled me since I did not hear them. This was why I switched to 1-bud in.
Do you run 'till you flop on the ground like a dying fish? I surely don't. I always leave enough in the tank to still be able to move explosively. On a side note, some great self-defense drills involve sprinting, then striking or doing your skills while fatigued or with a spiked heart-rate
If you carry a weapon while running- pepper spray, knife, etc., make sure it is something that is actually useful and carried in a manner that you can access it easily. Knowing how to access it is one level of understanding; having practice and drilling accessing it under stress is on a completely higher level. Side note: if you do choose to carry something that can be used as a weapon- know that it could be used against you, particularly if you pull the weapon and are not willing and capable of using it.
Get some hands-on self-defense training and an understanding of how to defend the most common types of attacks.
Under the best circumstances: you are highly trained, you carry a (legal) weapon and are competent with how to use it, you are still betting on your ability to utilize your skills under stress and get your tools on target with an attacker who likely already has the jump on you when your physical state could be diminished (if you're on the brink of exhaustion from a hard run).
No matter how many people get attacked while running trails, there is logistically, financially and physically no possible way to place a police officer on every mile of every trail to ensure the safety of people running alone, so take ownership of your personal safety by being street smart and reducing opportunities for an attack when you are at higher risk can go a long ways to help keep you safe, as well as help to put those who care about you at ease.
Train smart and stay safe,
Evan D
Owner/Lead Coach
​NOVA Self Defense